With the passage of recent anti-life proposals and propositions nationwide, it is clear that there is still much work to do to protect the unborn and the family in our country. And much of this work is centered around our health care.
Anti-Life propositions and proposals, like those recently passed in California and Michigan, reinforce the need for unified pro-life communites. And policies such as the Department of Health and Human Services' (HHS') recently proposed implementation of Rule 1557 under the Affordable Care Act, that would potentially mandate health care professionals to provide abortion and gender reassignment procedures, are further evidence of this need. These policies threaten the existence of Catholic and pro-life health care in our country.
We must act now. If we fail to act in this pivotal moment, pro-life health care and the professionals who provide it may be forced out of health care altogether. If pro-life health care is made unlawful, individuals and families may no longer have the ability to receive medical care that is truly pro-life and aligned with their faith, and could be coerced into care that violates their conscience and religious beliefs.
Still, there is hope and a way forward. By coming together as a community and walking as one for pro-life health care and religious freedom, we can fight for the future of pro-life health care and the conscience rights of patients, and create a culture that is open to life.
At the Christ Medicus Foundation, we do this through initiatives that share the healing love of Christ in health care, by promoting religious freedom in health care and providing a pro-life community of Catholics walking together in their health care needs. Our CURO Whole Health program offers whole person Catholic wellness, accompaniment, support, and a health care sharing option to thousands of Catholics seeking the healing love of Christ in community.
Now more than ever, we must all walk as one. Communities like the Christ Medicus Foundation and Catholic.Care play a vital role in this.
Learn more about CURO and Join the Christ Medicus Foundation and the CURO Team on November 16, 2022 at 7pm Eastern to learn how your whole Health Care can be transformed by the Divine Physician.
In this digital conference we will be unveiling new opportunities to get involved in our ministry and support our mission of defending pro-life health care!
Register Here:
https://cmfcuro.com/a-pro-life-approach/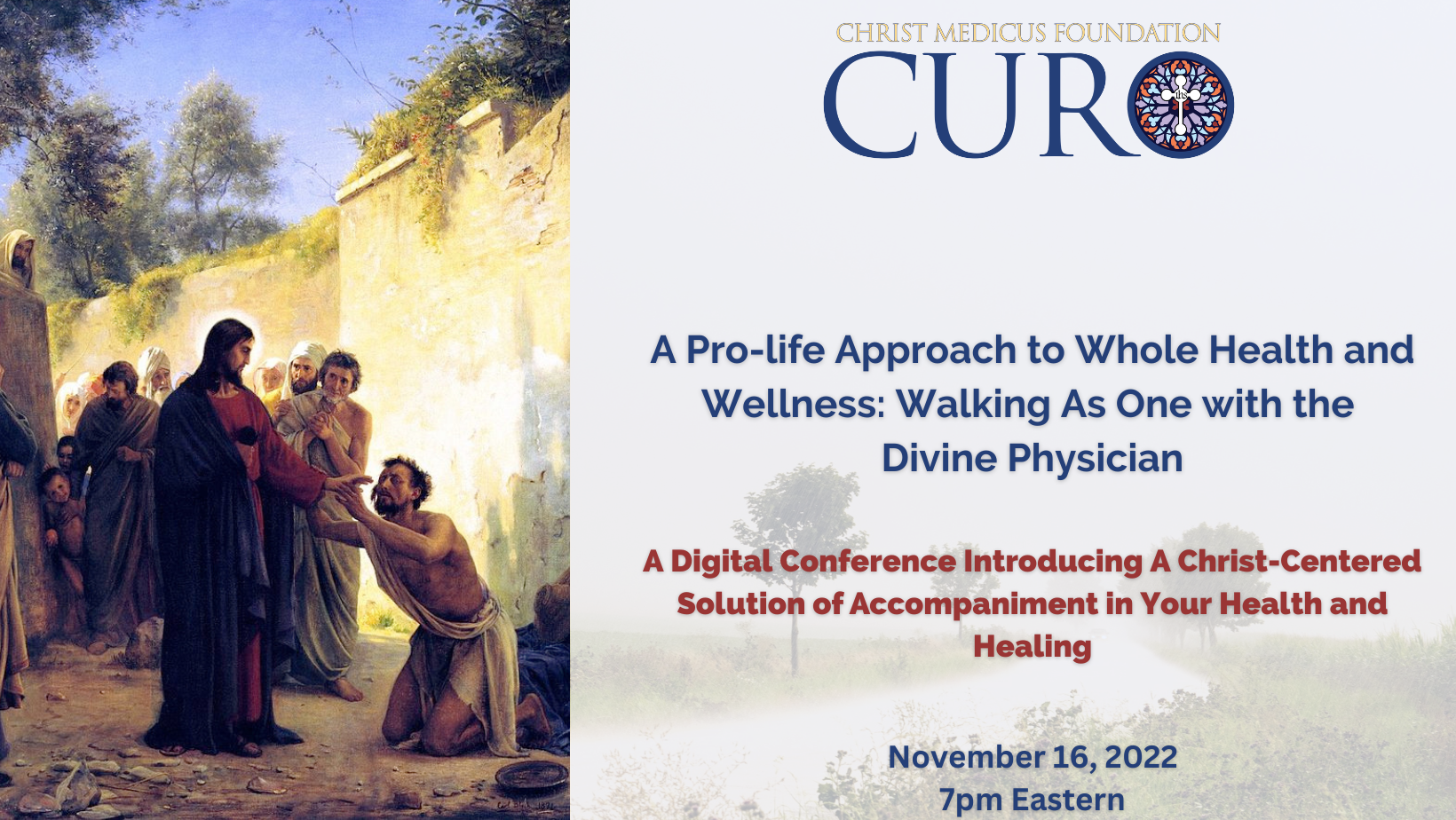 If you are searching for a health care option for 2023, reach out to CURO today to learn about our health care sharing option for Catholics.